Main Image
Image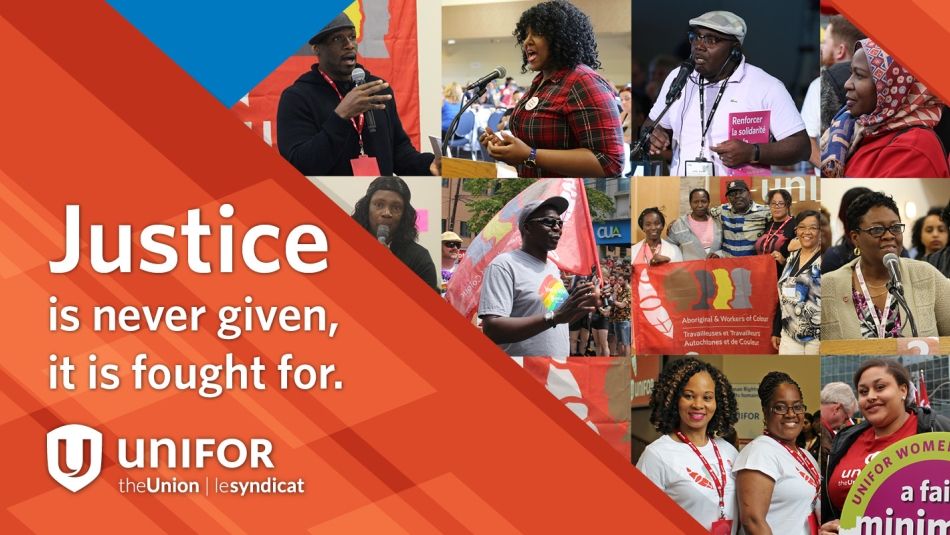 Share
Dereck is a 30 year member of Local 27 working at General Dynamics Land Systems in London Ontario. Dereck is active in both his workplace and Local 27 where he serves on the Executive Board. Dereck can always be found on the front lines of any fight, whether it's a picket line in Goderich or Gander or at a community rally to save our public health Care System.
Dereck's passion over the years has been as a Union Educator.  Dereck has overseen the Union Awareness program and is a Discussion Leader for the Education Department teaching area schools as well as PEL programs and the Family Education Program in Port Elgin.
Ayamba Ramba is a proud member of Unifor Local 2216. Ayamba has served as shop steward from 2013 to 2018, then going on to become 2nd vice president of Local 2216 in 2018.  In 2017, he was elected Recording Secretary position on the Aboriginal & Workers of Colour Atlantic Regional Committee.
Ayamba is actively engaged in many community organizations and movements. He campaigned for Megan Leslie in the 2008 federal Election, which resulted in her being elected to Parliament.  He also helps newcomers transition into their new life in Canada during his work for African Diaspora of the Maritimes. As Secretary-General of African Diaspora of the Maritime, he is involved with Southern Sudanese Community in Halifax.
Shereta Bowers has worked for the past 11 years as a personal support worker helping children and adults with developmental needs. Shereta is involved in many capacities at Local 1106. She is the Workplace Committee Chairperson, AWOC Chairperson and member of the joint Health and Safety Committee. She is also elected to the Ontario regional council Aboriginal and Workers of colour Committee where she is the Co-chair.
Shereta is also a Discussion Leader with Unifor education Department, educating members from coast to coast. In her spare time, she is a fitness enthusiast and dedicated soccer mom of two children. Shereta believes in living a life that matters that is filled with love.
Christina Ashe is a fierce activist and dedicated member Unifor Local 4606. Christina works at the IWK health center, where she has been employed for 25 years as an MDR Tech. Christina represents a growing number of workers of colour in the workforce. She became active in 2005 when seniority rights were not being followed. Christina has been at the bargaining table multiple times representing her fellow brothers and sisters.
Greg Hamilton is a proud activist and member of Unifor Local 5555. Greg has worked as a Special Constable at McMaster University for the past nine years.  He came as a retiree after serving 33 years at the Hamilton Police Services. Greg was the first black officer hired to Hamilton Police Services, and the first Black Unit Chair at Local 5555.  He was recently acclaimed for his second term as Unit chair.
Sandra Mills has been a member of Local 673 for over 20 years and is currently holding her third consecutive term as our Woman's Advocate. She has made it her mission to speak up for women and educate all members about women's issues. Sandra finds great reward in her position, as she puts it, "I want to make sure woman in the union know there is someone who can stand with them. This gesture may seem small on paper but believe me, it's grand".
Sandra's work as an activist continues in her neighbourhood where she serves as the Nomination Chairperson for the Ontario Netball League. With the help of the education she gained through the union, she encourages all those around her, but particularly woman of colour to find their own inner strength. Some can overlook woman of colour and underplay their abilities, so she lives by the credo, "If you tell me I can't do something, I will show you I can do it."
Sandra measures her success through the women she supports, believes, validates and empowers.
Mary Boudreau lives in Winnipeg, Manitoba. Her union activism started in 2011 when she helped unionized her workplace. Since then, she was first elected in 2015, as the first woman of Colour to sit as local 468 Vice President, sits on the Prairie Regional Council AWOC standing committee and serves on her workplace bargaining committee for the third time. She also was instrumental in helping to organize two other departments in the company she works for.
Her commitment to our union doesn't stop at the office doors but extends to her community. She has organized not only food drives for Winnipeg Harvest but organized clothing drives for local shelters in conjunction with her local's  Women's committee, and finding funding for three Unifor scholarships for the Thompson Arts Festival in Northern Manitoba. 
She hopes to continue to make a difference in her community, her workplace and her local.
Eve Graham a proud member of Unifor 2002 for 29 years.   She was born on the beautiful island of Antigua and immigrated to Canada at the age of 5 years old.  Eve has lived most of her life in Toronto and believes that activism continues to bring a smile to her face every day.  Her activism started very young in my school years when she first faced discrimination based on race.  From then on Eve made it her drive in life to make a difference in the world.  She completed a degree in tourism management, entered the workforce and started a family.  
Eve's first role as an activist started in 1990 when she was elected to the board of directors of her Cooperative home development as the financial secretary a role she held for 10 years. Eve was elected as a union rep at her workplace, served as a discussion leader for Unifor national education department and then went on to do one term as district chairperson for Local 2002.