Main Image
Image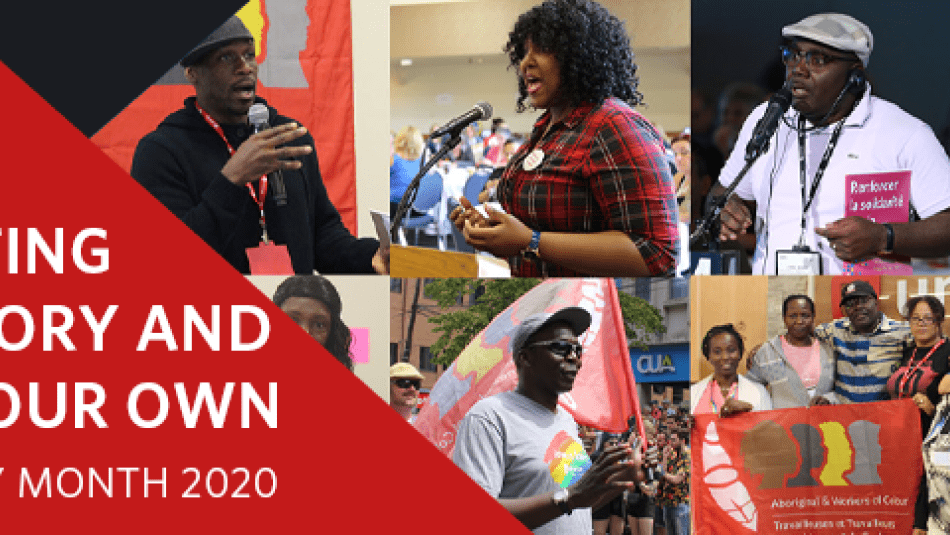 Share
Each week throughout Black History Month we will profile a members from across the country, highlighting their activist contributions and those who inspired them.
Sharlene Henry
Local 1285, Activist
Sharlene Henry is an activist in her community and it has become a passion of hers since becoming involved in activism with Local 1285 in 2017.
In the past year, Sharlene has also been advocating for Affordable Housing and Tenant rights in her area of York-South Weston in Toronto. On February 1st 2020, Sharlene along with seven other founding members launched 'York-South Tenants' for ALL tenants in their community. Their goals are to form Tenant Associations in as many rentals in their area as possible, give tenants the knowledge and power to fight Above Guideline Increases, basic tenant rights, helping tenants in poorly maintained buildings, fighting against no repairs, no Rent Control law reform and illegal evictions.
All of us at Unifor know that we are stronger together and YSW Tenant's is also learning that we have a voice and the power to change policy at City Hall.
---
Odaro Ekoma
Local 1285, Youth Committee Chairperson
On New Years Day in 1992, two parents; one of Jamaican background and the other of Nigerian, welcomed Odaro Ekoma into this world. They raised Odaro with the knowledge of his heritage and instilled certain values that made him the person he is today.
Fast forward, in 2019 Odaro made a commitment to get more involved with his community for social justice. Together with Unifor, he became the Youth Committee Chairperson with a simple mission: to help empower those around him and to let them know that we ALL have a voice. It is one of our greatest tools.
---
Shinade Allder
Local 6005, President
Shinade Allder is the first Woman of Colour President of Unifor Local 6005. Her work in the union began in 2009 when she was elected trustee. In 2016 Shinade was elected Secretary and in 2019 President. 
While being President Shinade has set up equity groups, which her local has never had. Local 6005 now has a Woman's committee, Allies committee and an Aboriginal & Workers of Colour committee.
Shinade understands the importance of equity, equality and education. She continues to have her local be more involved by sending her members to training in order to have all equity committees up and running.
Shinade also sits on the Ontario Regional Council AWOC Committee.
---
Jessica Smellie
Local 1285, Activist
Jessica Smellie is a proud, young, Unifor Local 1285 activist. She is currently a team leader at the Brampton Assembly Plant and has been employed for almost 3-year's full time.
She has partaken in various union movements and events such as the GM rally in Windsor and Oshawa, the Labour Day parade, and the Local 1285 Christmas float build.
She has found her voice through Port Elgin courses and continues to be an approachable and non-judgemental person.
She aims to better educate those who live in ignorance about discrimination and stand up to oppression and intimidation.