Main Image
Image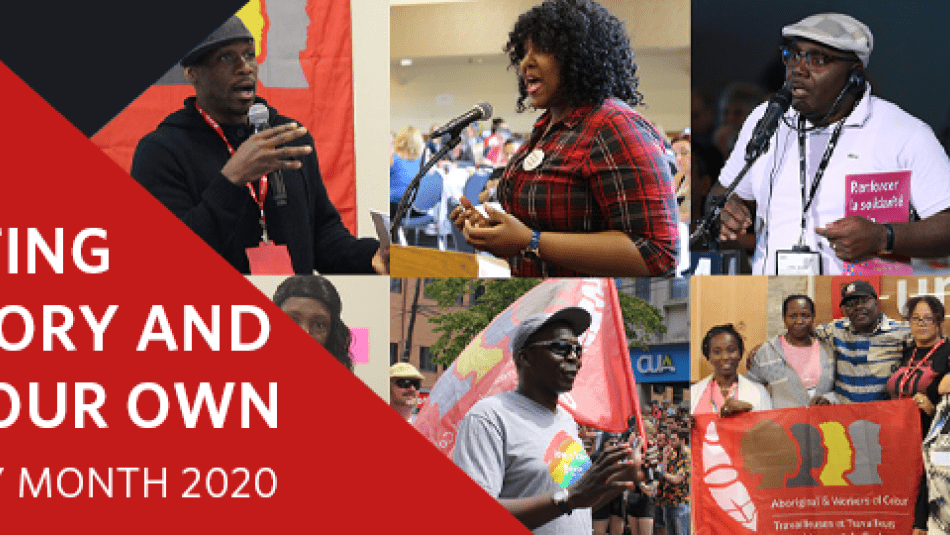 Share
Each week throughout Black History Month we will profile a members from across the country, highlighting their activist contributions and those who inspired them.
Vince Bailey
Local 1285, Retired National Coordinator
Vince Bailey started working at the Parts Depot on March 29, 1972. His union involvement began when he was elected as afternoon shift committeeperson from 1975 – 1978. He was re-elected to this position from 1978 – 1981. During this time, in the early '80's, Vince was part of a small group who were instrumental in the orchestration of the Human Rights and Workers of Color Committees. This brought change to the Union, such as the two-week Worker of Colour Program in Port Elgin, as well as a Worker of Colour position on the National Executive Board (NEB). 
From 1982 – 1984, Vince was elected as alternate chairperson. From 1984 – 1986, he was elected as chairperson and re-elected as chairperson from 1987 – 1990.
In 1990, Vince became the Vice-President of Local 1285 and President in 1993 – 2008. During his time in office, he was involved in five sets of Chrysler Master Bargaining, from 1993 – 2005, as well as several other units within Local 1285.
During his 15 years as President at the Local 1285, Vince was appointed to the NEB from 1997 – 2007. In 2008, he was appointed as National Coordinator until he retired in 2011.
---
Brian McConnell
Local 4050, Shop Steward
Brian McConnell has been the Shop Steward in the Loomis facility in Calgary, Alberta for a more than a year.
As a Shop Steward, Brian has always believed that all us have something good to offer in society, if given an equal opportunity.
His dream is to see the beautiful country we all call home progress and blossom further into a place where all people, regardless of race, culture, creed or gender, are able to contribute to this great nation. He believes that we must act on a vision and responsibility to light the way and give hope to those who are willing to seek it.
Brian also believes in the solidarity of his Unifor brothers and sisters and has full trust that we share the same views to make this vision a reality, wherever we are.
We are Unifor strong!
---
Constance Brown
Local 707, Chair, Aboriginal and Workers of Colour Committee
Constance Brown is the Chair of the Aboriginal and Workers of Colour Committee and represents Unifor Local 707 at the Ford assembly complex in Oakville.
Constance is a continuous supporter for racialized communities and has made diversity and social equity a top priority in her role. Constance continues to advocate for Aboriginal and Workers of Colour both locally and internationally.  
While in her role, Constance has expanded her knowledge on human rights issues, health and safety for women, women in skill trades and technology, public speaking, unionism, and politics. 
Constance has been a key leader in developing relationships and advocacy campaigns with local organizations including the Fort Erie Native Centre, St. Catharine's Sexual Assault Centre, United Way, Migrant Workers of Ontario, and Brock University's Human Rights and Equity Centre.
Constance recognizes that more work still needs to take place to promote anti-racism and equality.
---
Bancroft L. William
Local 3003, Activist
Bancroft L. William's has shown great contributions and dedications as an exceptionally active member in the union from 1995 to 2020.
Elected to the Local Executive Board from 1998 to 2020, he continues to support diversity culture at Unifor.
Bancroft has held multiple chair positions in his time with the union, such as, Local, AWOC and Human Rights, and Member Joint Unit Anti- Harassment Workplace Committee. In addition, he has been a chairperson for the Manitoba Regional Caucus Human Rights, AWOC & LGBTQ.
He participates in a number of international recognition days, including Human Rights, the Elimination of Racial Discrimination, Women's Day, those centred on Indigenous peoples, and the International Day for the Elimination of Violence against Women.
He has been involved with Black History Month celebrations and contributions, such as, participant to grand opening of Winnipeg Mayor's Proclamation, youth history lessons and political forums, youth debates and research challenges, spoken word poetry presentations and the BHM Community Awards Banquet that honours past and present activists.
He is a founding member of the Canadian Human Rights Museum and of the Unifor delegation to Conventions and Councils.
Bancroft is committed to eradicate racial discrimination, prejudice, segregation and homophobia.
"Injustice anywhere is a threat to justice everywhere."