Main Image
Image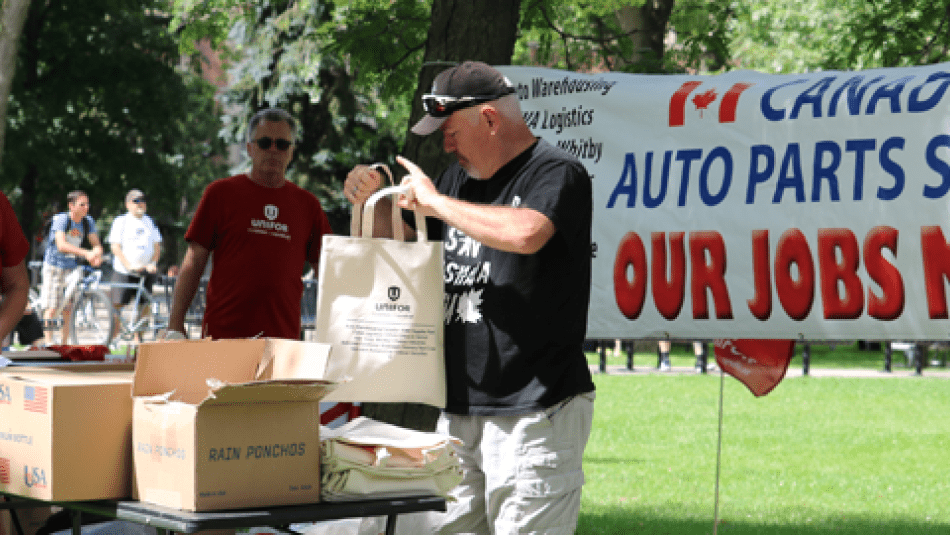 Share
On August 10, hundreds of members of Unifor Locals 222, 444, and 1090 as well as members of the general public, gathered at Memorial Park in Oshawa for a rally and picnic in solidarity with independent auto parts supplier workers facing plant closures and ongoing negotiations of restructuring agreements.
The family-friendly event featured live music, entertainment, and a public address from Unifor Local 222 President Colin James, Unifor Ontario Regional Director Naureen Rizvi, Oshawa Member of Provincial Parliament Jennifer French, and Ontario Federation of Labour President Chris Buckley.
"This rally brought together Unifor members, elected officials, and the public in solidarity with the 1,700 women and men who deserve fair and just severance for their years of hard work and sacrifice," said Colin James, Unifor Local 222 President. "All of us need to come together and stay strong as we use every tool available to us to get the best possible deal for auto parts supplier workers."
The announced closure of the assembly line at General Motors Oshawa has meant thousands of additional auto parts workers and support staff are facing job losses. The rally helped draw attention to the uphill battle faced by Oshawa workers as Unifor continues to pressure employers to fund a just transition to new employment including enhanced severance agreements, extensions to heath plans, and employer contributions to an adjustment centre.
"More than anything, we want all the independent parts supplier workers to know that through your resiliency you have become an inspiration to all workers across Ontario," said Naureen Rizvi, Unifor Ontario Regional Director, addressing the rally's attendees. "You took the fight in to the streets and because of that you have been a motivation and provided encouragement for all Unifor members facing similar circumstances."
Since the auto parts supplier park and feeder plants for General Motors Oshawa was created, Unifor estimates it saved the company more than $2.7 million in annual operating costs each year. Efforts to pressure parts supplier companies and General Motors to provide workers with fair compensation are ongoing, however, greater efforts by the provincial and federal government are needed to prevent further closures in the near future.
"We've been trying to convince the provincial and federal governments that the bleeding has to stop," said Chris Buckley, former Unifor Local 222 President and President of the Ontario Federation of Labour. "This community was built on strong, good paying manufacturing jobs and we have been bleeding and bleeding for far too long. Our governments have a moral obligation to protect workers' jobs."
Unifor will continue to use every option available to negotiate the best possible deal with independent parts supplier companies so that workers are given fair compensation.  As well, Unifor will continue to pressure governments at all levels to create an automotive and parts supplier industrial strategy that will prevent future manufacturing job losses as multinational corporations continue to receive generous public subsidies while moving jobs to low-wage jurisdictions.
View photos from the auto parks worker solidarity rally and picnic on Facebook here.