Main Image
Image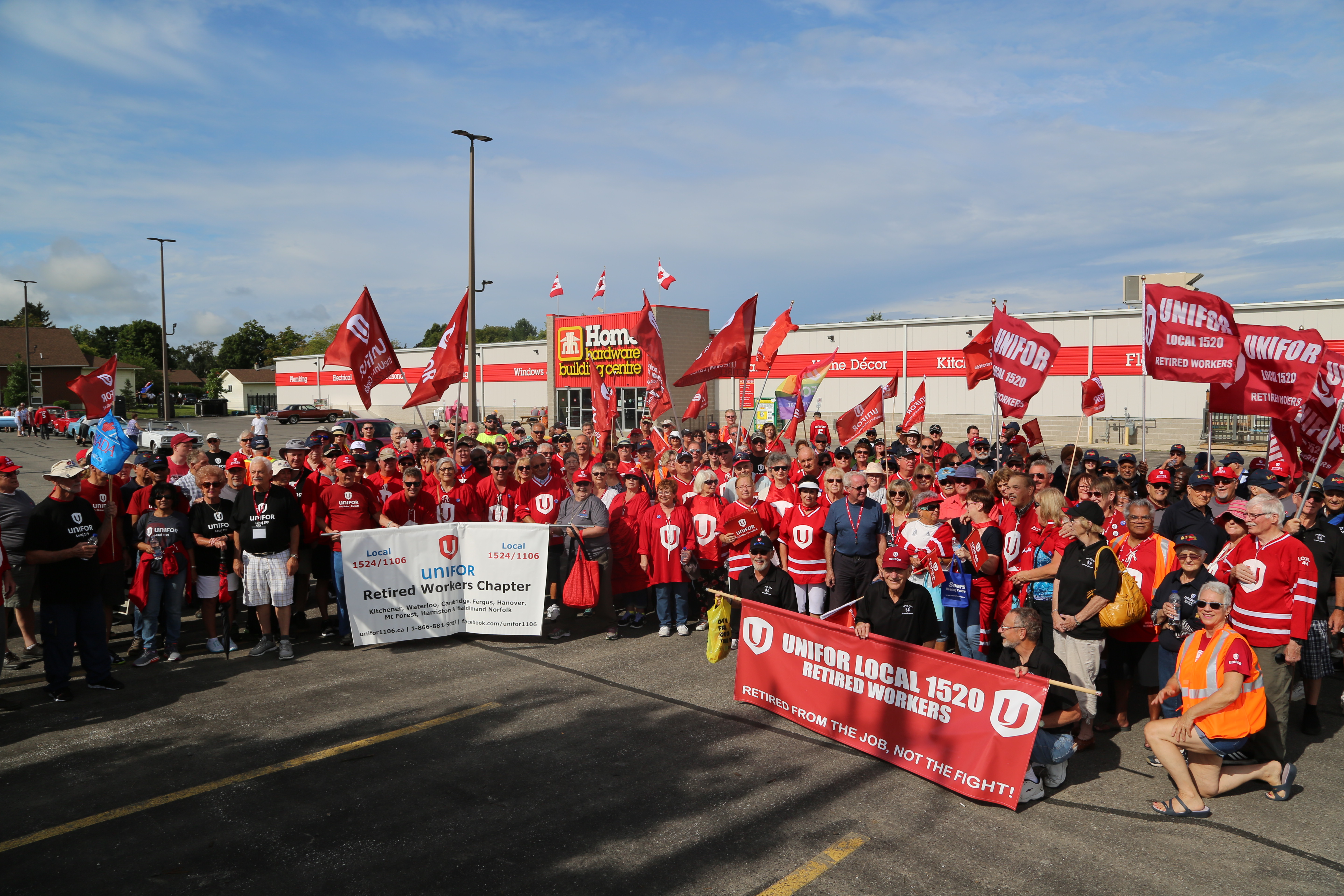 Share
This week retired members gathered in Port Elgin for the annual National Retired Workers' Council, which represents more than 38,000 retirees across Canada.
"Our retired workers have paved the way for the today and tomorrow's workers to continue the fight for the good jobs and a fair share of economic progress," said Bob Orr, National Secretary-Treasurer in a speech Council.
On Labour Day, more than 1200 retired workers participated in the Port Elgin Parade, in collaboration with the Grey Bruce Labour Council. Floats, horse-driven carriages and off road vehicles were all featured at this parade, which saw a big turnout from the community of Port Elgin.  All attendees at the parade were then welcomed back to Unifor's Family Education Centre for an afternoon of BBQ, draw prizes and family friendly activities such as face-painting and balloon art. Featured speakers included Mike Smith, Mayor of Saugeen Shores, Kevin Smith, of the Ontario Secondary School Teachers' Federation and President of Grey Bruce Labour Council, and Dave Trumble, Power Workers Union, Labour Council Labour Day Chair.
In a touching act of solidarity with the striking workers of OPSEU Local 276 at Owen Sound Family Health Centre, all attendees, locked arms with the workers who are protesting unfair working conditions and low wages. Affiliate leadership from OPSEU 276, including Karen Gventer, Local President took to the stage to express thanks for Unifor's ongoing support at the picket line. Demonstrating this ongoing support, over a 100 retirees volunteered to go to the picket line in Owen Sound, as bargaining continues.
Delegates discussed various health issues and pro-active aging. They watched presentations from Micheline Robichaud of the Heart & Stroke Foundation of Canada, and Clara Fitzgerald, Canadian Centre for Activity & Aging who shared tips for fall prevention, aging well and staying healthy. Walking the walk, Christy Micallef from the Centre led an energizing, interactive session that had members join along in strength training and stretching exercises.
Other guest speakers included Sandra Hong from Alzheimer's Society of Grey Bruce, and Nancy Kline and Dale Murdoch of Diabetes Grey Bruce. Drawing the sessions to a close, Dr. Aric Sudicky detailed some preventative approaches to healthy aging. Naureen Rizvi, Ontario Regional Director, told delegates that retirees have an opportunity to play a crucial role in building and supporting the union.
In addition, John Vanderpool, of Retired Workers' Chapter 1451 won the Retired Worker of the Year award for his/her contributions to union activism.