Image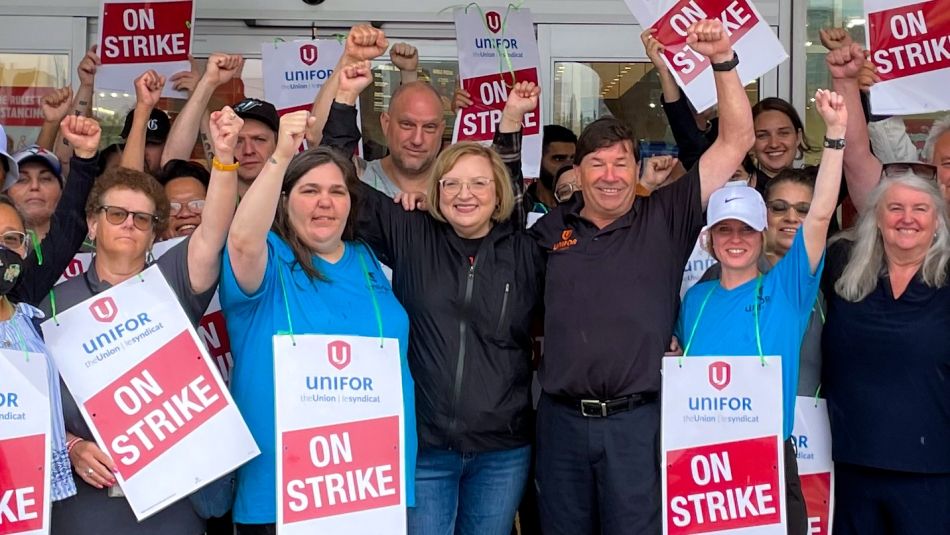 Join frontline grocery workers on a picket line near you.

Unifor Local 414 members are taking a stand against corporate greed amidst an affordability crisis. It's time for them to get their fair share of Metro's enormous profits. It's time for good jobs for grocery workers.

Metro stores impacted by the strike will include those in Toronto, Brantford, Orangeville, Milton, Oakville, Brampton, North York, Islington, Willowdale, Mississauga, Etobicoke, Newmarket, and Scarborough.
 
Brampton
180 Sandalwood Pky, Brampton, Ont L6Z 1Y4
Brantord
371 St. Paul Ave, Brantford, Ont N3L 5P9
Etobicoke
1500 Royal York Rd N, Etobicoke, Ont M9P 3B6
Islington
201 Lloyd Manor, Islington, Ont M9B 6H6
Milton
1050 Kennedy Circle, Milton, Ont L9T 0J9
Mississauga
2225 Erin Mills Pky, Mississauga, Ont L5K IT8
6677 Meadowvale Cir, Mississauga, Ont LSN 2R5
Newmarket
1111 Davis Dr, Newmarket, Ont L3Y 2R9
16640 Yonge St # 11, Newmarket, Ont L3Y 4V8
North York
3090 Bathurst St, North York, Ont M6A 2A5
Scarborough
40 Eglinton Sq, Scarborough, Ont MIL 2KI
2900 Warden Ave, Scarborough, Ont MIW 2588
3221 Eglinton Ave E, Scarborough, Ont M1J 2H7
Toronto
16 William Kitchen Blvd, Toronto, Ont MIP 5B7
3003 Danforth Ave, Toronto, Ont M4C IM9
2155 St. Clair Ave W, Toronto, Ont M6N 1K5
100 Lynn Williams St, Toronto, Ont M6K 3N6
425 Bloor St W, Toronto, Ont M5S 1X6
1411 Lawrence Ave W, Toronto, Ont M6L 1A4
2300 Yonge St, Toronto, Ont M4P 1E4
656 Eglinton Ave E, Toronto, Ont M4P [P]
89 Gould St, Toronto, Ont M5B 2R1
1050 Don Mills Rd, Toronto, Ont M3C IW6
Oakville
1521 Rebecca St, Oakville, Ont L6L 1Z8
Orangeville
150 First St, Orangeville, Ont LOW 3T7
Willowdale
20 Church Ave, Willowdale, Ont M2N 0B7
291 York Mills Rd, Willowdale, Ont M2L 1L3